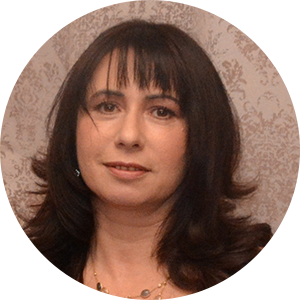 Dr. Galia Temtsin Krayz is company's Chief Executive Officer and Head of R&D department. She also leads the customer formulation services including R&D and GMP activities. Dr. Temtsin Krayz has been involved in the Life Science and Pharma industries since early 2000 and she is one of well recognized and leading experts in these fields. She is an inventor of different proprietary technologies such as SolumerTM-oral; OmexaTM-transmucosal sublingual and Nasax – intranasal. Dr. Temtsin Krayz most recently held the position of CEO at Solubest Ltd., where she had worked for 15 years and had various positions of increasing responsibility from researcher to CEO. Prior to Solubest, she served at Perrigo (Chemagis, Israel), as a project manager. Dr. Temtsin Krayz has both academic and industrial experience in organic synthesis and process development of APIs.
Dr. Temtsin Krayz is responsible for business development, R&D activities, proprietary formulations from the early Proof-of-concept to Phase II clinical stages. Controlling a development of various delivery systems including oral, sublingual, topical, nasal, injections and others as standalone drugs and in combination with device. Leading the customer formulation services. R&D and GMP program initialization, preparation of Quotation and Quality& Master Service Agreements, programs management, report and preclinical/ clinical formulation supply, budged management. Leading ISO 9001/ 2015 and GMP quality system maintenance and consistent improvement including personal involvement in annual Israel Institute of Standards audit and Customer QA manager's audit.
Dr. Temtsin Krayz holds B.A. in chemical education with top honors from Moscow Teachers Institute, Russia.
M.Sc. in organic chemistry with honors from Ben-Gurion University of the Negev, Beer-Sheva, Israel.
Ph.D. in organic and material chemistry from Ben-Gurion University of the Negev, Beer-Sheva, Israel.
MBA in BioMed from The College of Management, Academic Studies, Rishon Le Zion, Israel.